Holy Cross Cheer Team Places First at Nationals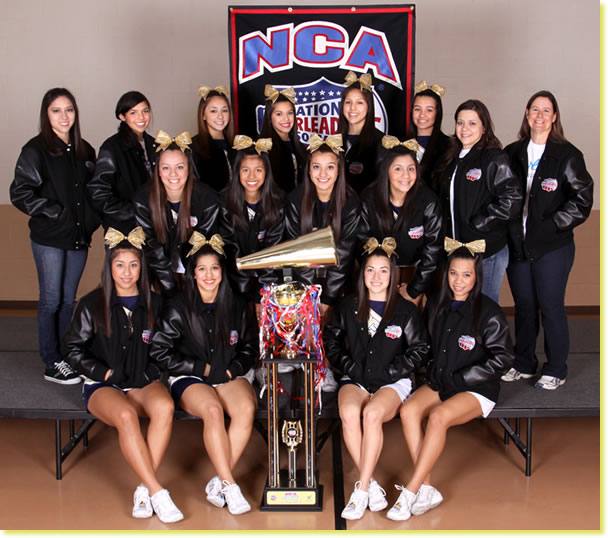 (Photo by BC Studio Photography)
(San Antonio, Texas) The Holy Cross Cheer Team competed at the National Cheerleaders Association (NCA) competition on Jan. 9 and successfully secured first place in this highly competitive event. This serves as Holy Cross' eighth NCA title.
The Holy Cross Cheer Team is committed to leading the crowd and serving as leaders in their schools and communities. They not only give of their time to energize the sports events at the school but they also serve on numerous charity efforts to help those in need in the community.
"Our students excel not only in academics but also in extracurricular activities," said Mr. Henry Galindo, Principal. "I'm proud of the hard work that our young ladies have put into placing first at this year's NCA competition. I'm also proud of the team's volunteer work with numerous local charities. Our students understand that as Holy Cross leaders we should strive to be of service to others in need in our community."
Leading the team to victory is Ashley Rubio, senior captain. Team members consist of senior Shelly Flores; juniors Maria De Leon, Kassie Martinez, and Amanda Robles; sophomores Alexis Balderas, Valarie Jimenez, Autumn Molina, and Kristen Morales; and freshmen Clarissa Berlanga, Stephanie Hernandez, and Karolina Martinez.
Jennifer Lopez serves as head coach along with her assistant coaches Audry Rubio and Gabie Kinderknecht. Jose De La Garza and Eric Villareal serve as the choreographers along with Coach Lopez to help meet the competition requirements. Dan Fernandez serves the Cheer Team in training them for strength and conditioning. Mindy Fernandez is the school sponsor for the Cheer Team.
The next competition will be held on Feb. 11-12 at the San Antonio Alamodome where the Holy Cross Cheer Team will compete at the national Cheerpower competition.
The Brothers of Holy Cross founded the school in 1957 steeped in tradition and education. Holy Cross serves as the only co-educational college preparatory school centrally located in San Antonio's Westside. Based on the principles of the Brothers of Holy Cross, the school's educational mission helps break the cycle of poverty and opens doors to higher education. For more information, visit Holy Cross of San Antonio, "Shining for the Rest of the World," at www.HolyCross-sa.com.