Health and Safety Update
April 17, 2020
Holy Cross Family:
Undoubtedly you have heard the unfortunate, though not surprising, news that schools in the state of Texas will remain closed for the remainder of the school year. Though not the desired result for any of us, this decision brings some sense to the uncertainty that we have all been facing during this time. Throughout our time apart, please know that we have been preparing to celebrate the many hallmark events for our students.
We are currently working on appropriate and suitable solutions to the following hallmark events:
Graduations (in discussions)
We are going to celebrate our 8th graders and seniors! Now that we know we will not be in school we are considering some solutions that involve having baccalaureate and graduation ceremonies together after May...assuming that it is safe to have these ceremonies by that time.
Prom (in discussions)
Given the date that we get the "all-clear" designation, prom may occur. More details will be forthcoming.
Junior Ring Ceremony, NHS and NJHS Inductions (decided)
These ceremonies will be held in the fall, most likely September.
Athletics (decided by TAPPS)
Please read the below paragraph taken directly from the latest TAPPS update:
The Executive Board and TAPPS staff have been communicating via conference calls weekly and as needed to review our status and the plan to resume activities. As the COVID 19 situation continues today, we have reached our final Spring phase. With the presidential plans shared yesterday and Governor Abbott's address this afternoon, all schools are effectively closed through the end of the school year. In keeping with this order and the health interests of all involved, TAPPS moves to the conclusion of our Spring activities.

Academic Awards and Sports Banquets (decided)
Unfortunately, these events are canceled. Awards will be mailed by the end of the school year.
End of School Year (unchanged)
Our school year endings remain the same. Seniors and 8th graders will end their classes on May 17 and the rest of the school will end on May 22. We are proud to state that we will finish the year with 180 instructional days. Final project information will be given by your students' teachers.
This is not the end of a school year that anyone would ever imagine. However, if this situation has shown anything it is the resilience that our families possess. We would like to take this opportunity to thank you for the support of our mission and the trust you put in us to weather this storm.
Thank you. Continue to be safe and well.
In Holy Cross,
Rene Escobedo, Ed.D., '92
Below you will find the letter addressing this recent development from the Superintendent of Catholic Schools.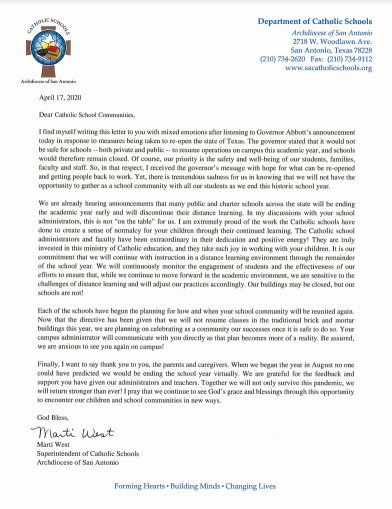 March 24, 2020
In accordance with the Archdiocese and for the health and safety of our community, Holy Cross will continue to educate our students through our online platform. The tentative date to return to campus is May 8, 2020.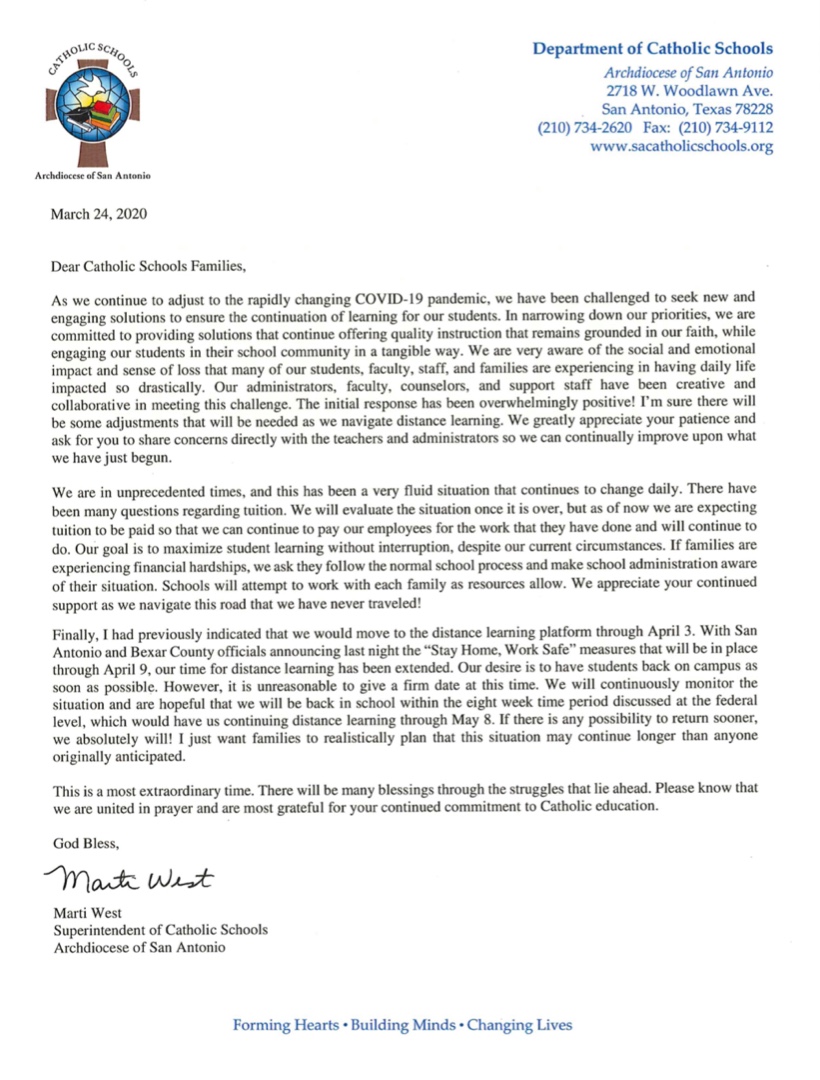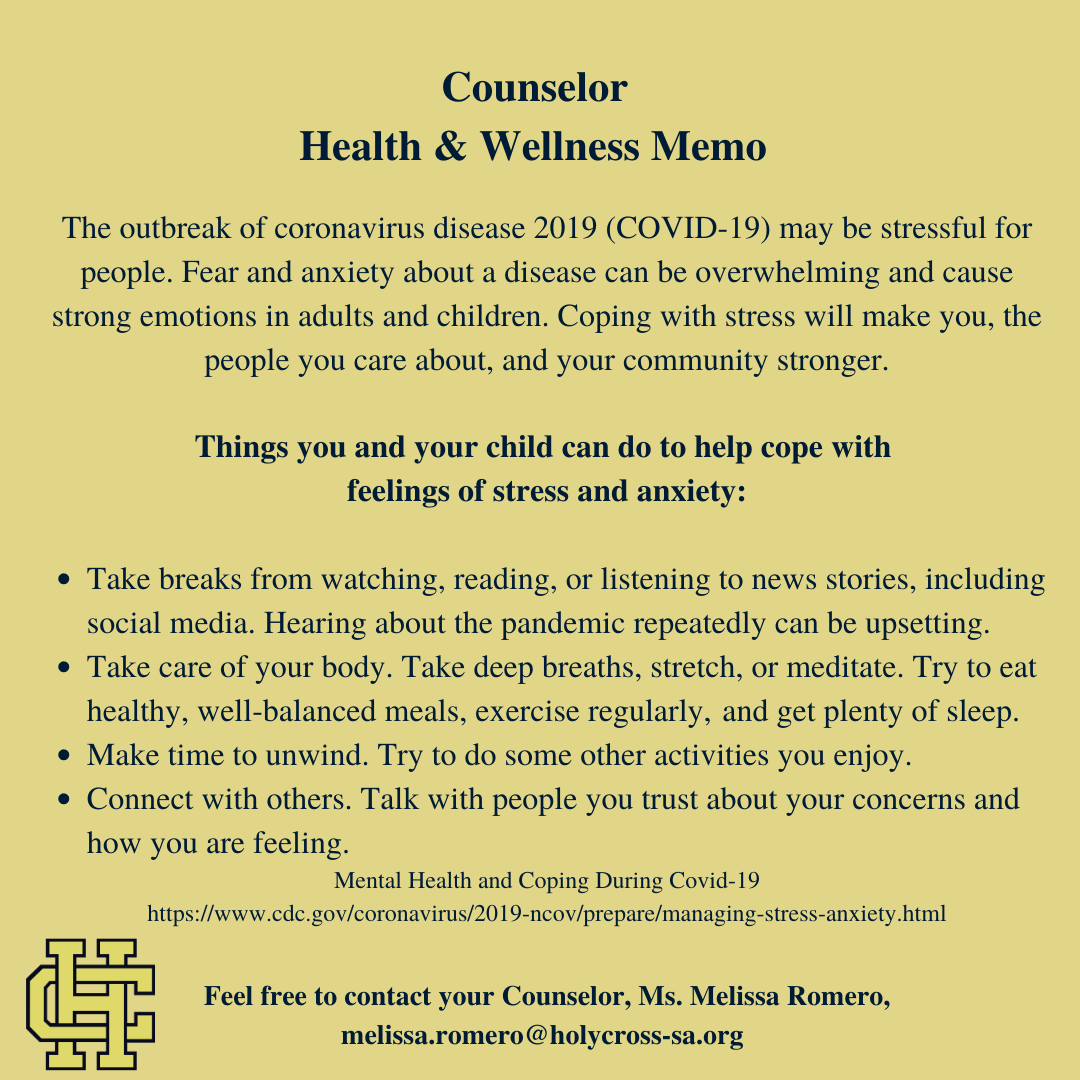 ---
March 13, 2020
Holy Cross Families:
Thank you for your support and patience as we all have been monitoring the recent developments and reactions to the COVID-19 situation. We ask for continued prayers for all affected.
The administration has determined that the health and safety of our community is of utmost importance. Therefore, the physical campus will be closed the week of March 16 - 20th. Our online education platform will begin on Wednesday, March 18th. The campus will be open for a short time on Sunday, March 15th from 10 am to noon for any student who needs to pick up their books.
The online platform will deliver course content by way of online learning through Apex and Google Classroom. Further instructions will be emailed by our faculty on Monday, March 16th. Students are encouraged to login to Google Classroom and Apex to access their assignments beginning Wednesday.
Although there is but one current case of COVID-19 in San Antonio, we take this measure in order to safeguard our most valuable commodity, your children. The implications of this decision have deep ripples for our community and include the following:
TAPPS has suspended all interscholastic activity so all practices and games are postponed starting today until further notice.

All scheduled school events scheduled before April 6 are cancelled. We will try to reschedule those events that are hallmarks of the high school experience but cannot guarantee that we will be successful.

All school travel is suspended until further notice.
We will be collaborating with the Archdiocese to determine if the above course of action will be amended as new information becomes available.
---
March 11, 2020
Our Lady of the Lake has informed us that they will extend their Spring Break and move to an online platform through April 13, 2020. This will, of course, affect our Dual Credit students. To get the most up to date information on their respective classes, dual credit students must login to the student portal for further instruction from OLLU and their professors.
Please rest assured that Holy Cross administrators have been monitoring the recent developments in the higher education community. However, as of today (March 12, 2020), our plan remains to resume classes on Monday (March 16, 2020). If this plan must be altered, we will keep our entire community informed as soon as possible.