2020 - 2021 Reopening Plans
The Holy Cross of San Antonio COVID-19 response information can be found on this webpage. In this time of uncertainty, please know that Holy Cross is committed to placing the the health and safety of our community is our primary concern and all recent decisions concerning our 2020-2021 reopening have been made with the upmost consideration and review of all the facts available.
For this reason, the one item of our plan that has remained constant is the our first day of school will be August 17th. Due to the current health landscape, we will start on that day virtually and will monitor the status as reported by public health authorities and determine to what extent in-person attendance is feasible. All parents should be prepared to exercise the in-person option if the health conditions and available safeguards are in place. When it is safe to bring our students, faculty, staff, and parents back to campus, we will do so at the earliest time possible. However, we are prepared to implement Online Remote Learning for as long as necessary.
Please use this page as the official resource of the Holy Cross Re-Opening Plan, All updates and news in regards to our plan will be posted on this webpage and on Facebook.
September 7, 2020:
Here are a few things to remember for our first day of school. To read the entire Community Update download it HERE
Before coming on to campus, every student MUST complete the Student COVID-19 Self Assessment
Everyone on campus must wear a mask

Reread the Reopening Plans to understand our expectations fully

Understand that all students must be picked up by 3:30 pm

Students not picked up by 3:30 pm will be placed in our afterschool program at the cost of $15 per day billed weekly

The Pledge to Keep Holy Cross Safe must be completed if you have not done so already. All members of our Holy Cross Family must sign it through the form found here.

If your child has been signed up for remote learning, please remember that the schedule they will follow has changed to what has been provided. They will no longer be attending only half days.

If you are expecting to have your child attend in-person learning, then we are pleased to welcome them on their assigned days. Remember, blue days are Mondays and Wednesdays, while Gold Days are Tuesdays and Thursdays.

IF you want to change from Remote to in-person learning, we will have to review that request this week to see if we can accommodate the request.
August 7, 2020: Community Update about start of school.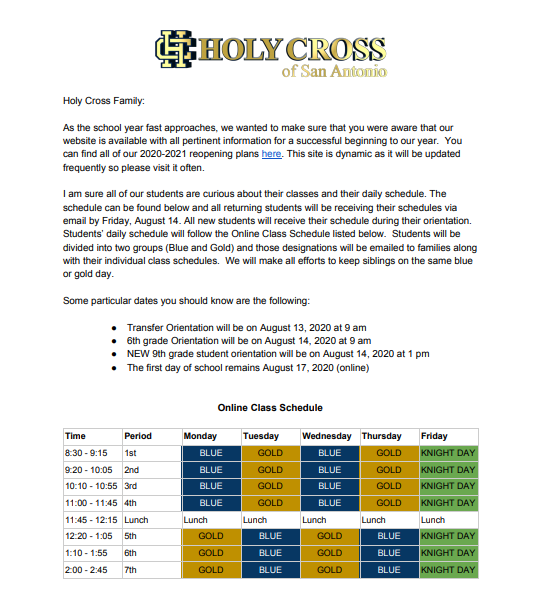 August 3, 2020: Healthy Hygiene
The safety and well being of our entire community is what has driven our actions these last few months. However, one thing that is certain is that the simple action of hand washing will go far is preventing the spread of COVID-19 in our community. Please take a look at the video found here to refresh yourself and employ these proper hand washing procedures. Also take a look at what you can expect once we return to campus concerning hygiene in the info graphic below.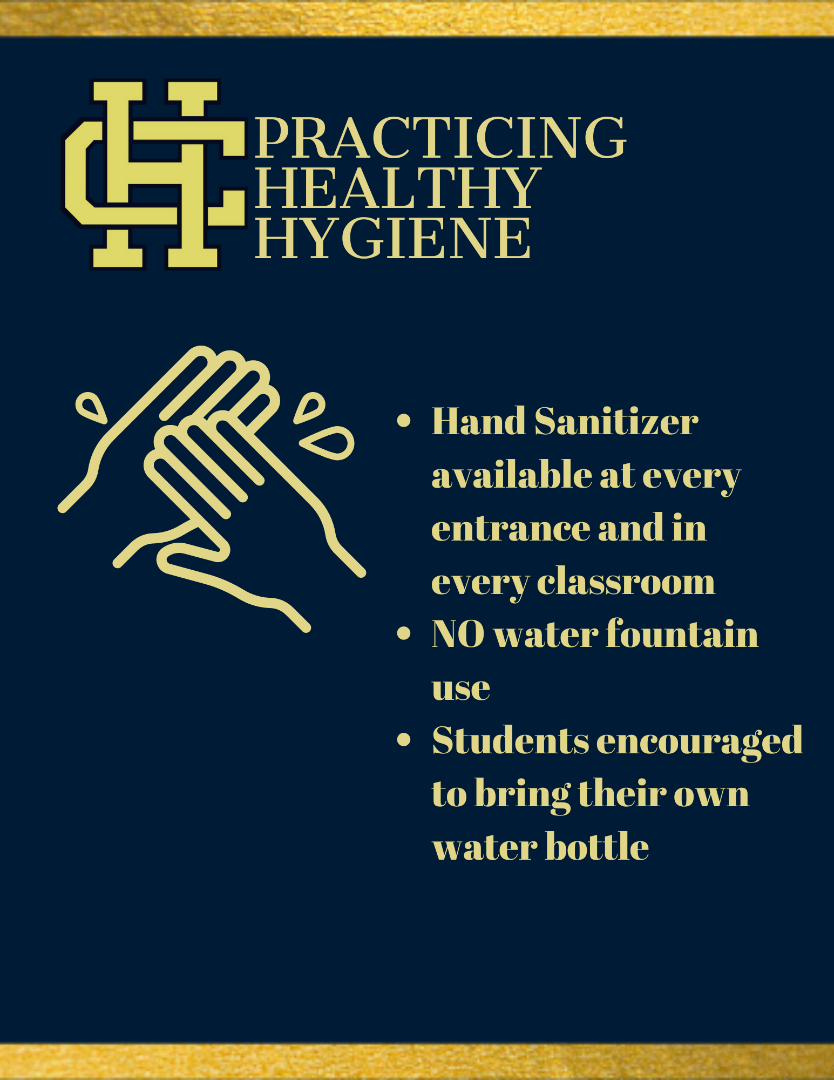 July 30, 2020: HOLY CROSS OF SAN ANTONIO COVID-19 PRECAUTION STRATEGIES
Holy Cross is busily getting prepared for our school to reopen as soon as possible. While it will be wonderful to welcome our families back on campus in September, our current reality will require some new systems to ensure the safety and wellness of our family. Therefore, when coming on campus you can expect the precautions listed in the infographic below to be adhered to at all times.
Thank you for your support and understanding of these necessary measures.

July 29, 2020: PLEDGE TO KEEP HOLY CROSS SAFE
Being a part of the Holy Cross Family means that we always take care of one another. We plan to open the 2020-2021 school year in this same spirit of loving care. Please take some time to read our PLEDGE TO KEEP HOLY CROSS SAFE (below) and commit to it by signing here.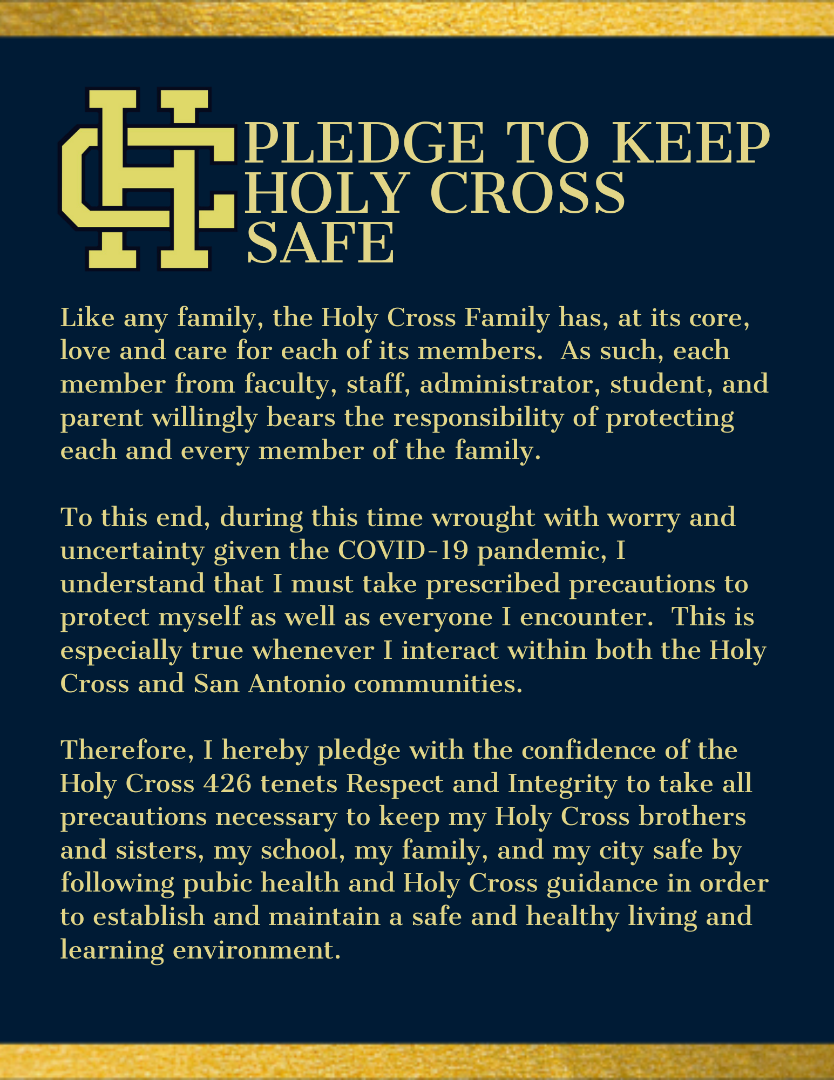 July 27, 2020: RE-OPENING OF THE 2020-2021 SCHOOL YEAR
Please read the OFFICIAL ANNOUNCEMENT from Dr. Escobedo about the start of the 2020-2021 school year below.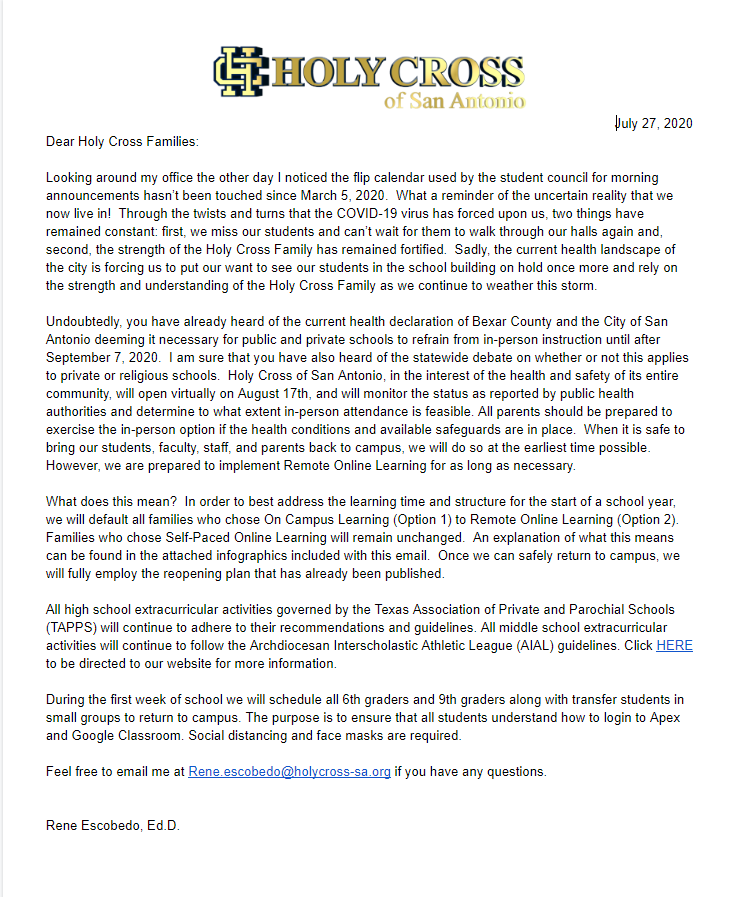 July 16, 2020: Re-Opening Plan -- Academic Options
Much like last quarter, Holy Cross is ready to be the best prepared school with our re-opening plan. Even though we were one of the only schools fully prepared for a COVID-19 response, we chose not to be complacent and sought opportunities to learn from that experience. Below is a simple info-graphic of what we are planning. We are excited to implement this plan in August, but even more excited to see our kids again.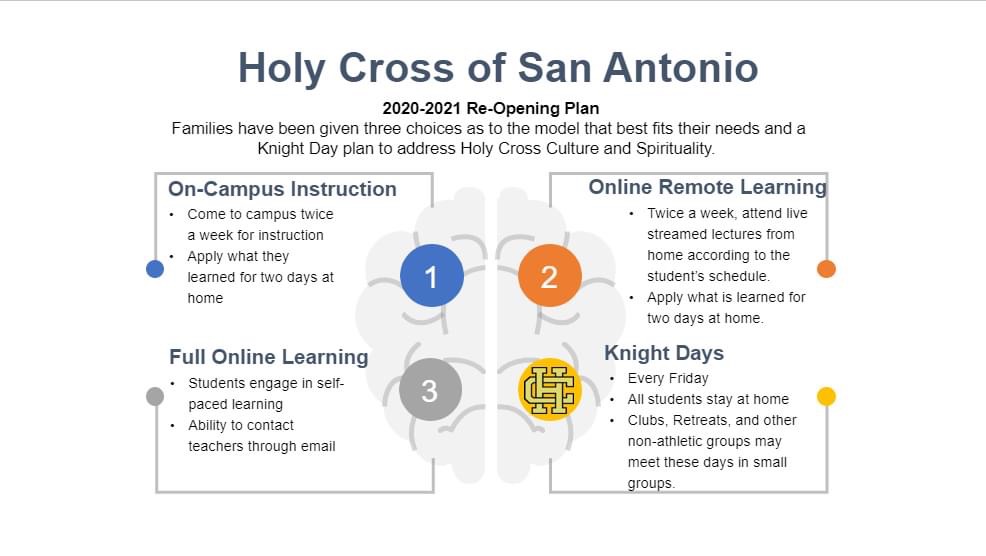 July 16, 2020: TAPPS AND AIAL ATHLETIC UPDATES
Please click on the individual logos for TAPPS (high school) and AIAL (middle school) up-to-date information.